Melbourne
CNS Neurosurgery's staff are Annie (Medical Secretary, Canberra), Cathy (Practice Manager, via our Sydney HQ), Dianne (Peri-operative Care, Sydney), Gurjeet (Medical Secretary, Canberra) and Jasmine (Medical Secretary, casual). Our office hours are from 9-5 AEST, Monday to Friday except Wednesday.
We ARE operational during the COVID-19/Coronavirus pandemic, but please read our protocol by clicking here
Neurological Surgery Victoria's staff (via our Melbourne partnership) are Emma (Practice Manager), and Caitlin (Medical Secretary and Administration, Melbourne).
PLEASE NOTE: CNS Neurosurgery's current protocol with regard to patients with flu-like symptoms can be found by CLICKING HERE

  (click the browser's back arrow to get back to this page).
If staff at any of the locations are unable to immediately take your telephone call, please leave a detailed message with your name and best contact number and your call will be returned. If you are calling about a medical emergency, please dial 000 immediately.
For your record, CNS Neurosurgery's email address is reception@cnsneurosurgery.com.au and business-hours mobile number is 0400 683 662.
Dr Khurana's consulting days are usually: alternate Wednesdays in Melbourne; alternate Tuesdays in Sydney; Thursdays and Fridays once a month in Canberra; and a Friday once a month at Batehaven (NSW South Coast). Urgent appointments may be able to be arranged outside of the usual consulting days.
Surgeries are carried out in Sydney (Hurstville Private Hospital, Hurstville, and East Sydney Private Hospital, Woolloomooloo) and Melbourne (Epworth Hospital, Richmond).
What to bring:
Your Medicare card
Your private health insurance card if you have one
Your EFTPOS or credit card (Visa/MC only)
Any brain and/or spine imaging studies (e.g., CD, hard copy films) you may have
Your doctor's Referral (or ask your doctor to fax or email the letter to us in advance).

Dr Khurana consults from the private consulting Rooms of Neurological Surgery Victoria in Melbourne. The Rooms are located at the corner of St Kilda Road and Commercial Road, opposite the Alfred Hospital. Dr Khurana operates at the renowned Epworth Hospital, Richmond, and in conjunction with Neurological Surgery Victoria.
If you are looking for Dr Khurana's Point Cook (Vic) Rooms' details, please CLICK HERE.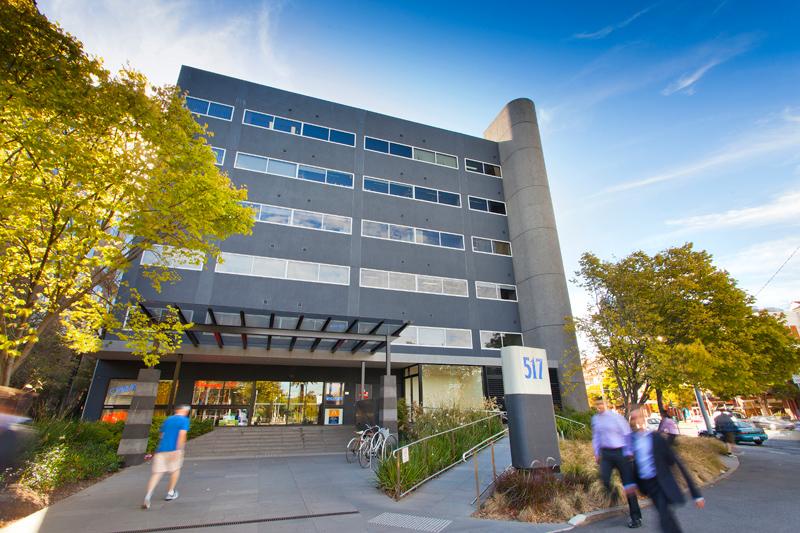 | | |
| --- | --- |
| Address | Neurological Surgery Victoria, Suite 9, Level 4 at 517 St Kilda Road, Melbourne VIC 3004 |
| Parking | There is a parking station located in the building itself (Commercial Road entrance), and the Practice is on the St Kilda Road and Commercial Road tram lines, with tram stops located immediately opposite the Rooms (at the corner of St Kilda and Commercial Roads). Trams from Flinders and Southern Cross Railway Stations also stop outside the Rooms. |
| Telephone | 03 (+ 61 3) 9867 1513 |
| Fax | 03 (+ 61 3) 9867 5417 |
| Email | info@nsvic.com.au |
| Skype name | cnsneurosurgery |
Accommodation in Melbourne
For accompanying family members and carers of interstate neurosurgical patients of Dr Khurana, your stay can be arranged at a competitively negotiated rate at the nearby Quest East Melbourne and CNS Neurosurgery may be able to assist you with transport to and from the airport too [shown below are images from the Quest East Melbourne].
For details of Quest East Melbourne, including a location map, please CLICK HERE (PDF). Early booking is recommended. The Quest is located opposite the Melbourne Cricket Ground, very close to Melbourne's CBD, numerous eateries and shops on Bridge Road, and close to the renowned shopping (Collins Street, Chapel Street), Arts and Olympic precincts. Quote Promotion code: 17CNS
WHERE WOULD YOU LIKE TO BE SEEN?