Point Cook, Vic
CNS Neurosurgery's staff are Cathy (Practice Manager), Dianne (Peri-operative Care, Sydney), Jasmine (Medical Secretary, casual) and Lauren (Practice Manager), and our office hours are from 9 AM to 5 PM AEST, Monday to Friday.
Neurological Surgery Victoria's staff are Emma (Practice Manager), and Arya, Caitlin and Kirsten (Medical Secretaries and Administration, Melbourne).
If staff at any of the locations are unable to immediately take your telephone call, please leave a detailed message with your name and best contact number and your call will be returned. If you are calling about a medical emergency, please dial 000 immediately.
For your record, CNS Neurosurgery's email address is reception@cnsneurosurgery.com.au and business-hours mobile number is 0400 683 662.
Dr Khurana's consulting days are usually: alternate Wednesdays in Melbourne and Point Cook; alternate Tuesdays in Sydney; Thursdays and Fridays once a month in Canberra; and a Friday once a month at Batehaven (NSW South Coast). Urgent appointments may be able to be arranged outside of the usual consulting days.
Surgeries are carried out in Sydney (East Sydney Private Hospital, Woolloomooloo) and Melbourne (Epworth Hospital, Richmond).
What to bring:
Your Medicare card
Your private health insurance card if you have one
Your EFTPOS or credit card (Visa/MC only)
Any brain and/or spine imaging studies (e.g., CD, hard copy films) you may have
Your doctor's Referral (or ask your doctor to fax or email the letter to us in advance).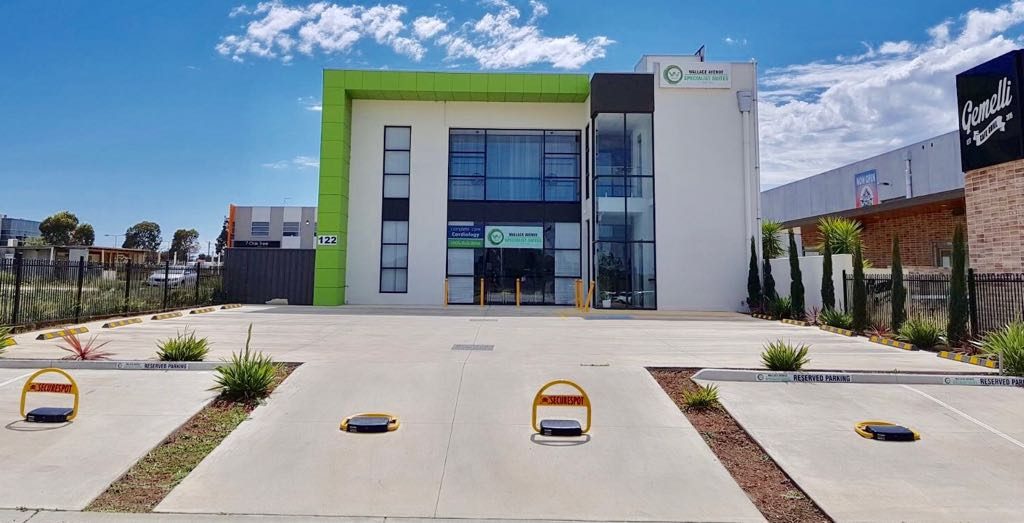 Dr Khurana consults one Wednesday a month at the Wallace Avenue Specialist Suites (building image and site parking shown above) located in the Wallace Avenue Business Precinct, Point Cook (see map, below).
| | |
| --- | --- |
| Address | Wallace Avenue Specialist Suites, Bldg 122 at 22-30 Wallace Avenue, Point Cook |
| Parking | The building has an open-air patient parking lot, as shown above |
| Telephone | For ALL patient bookings, please call CNS Neurosurgery Head Office: 0400 683 662 |
| Fax | For ALL patient bookings, please fax CNS Neurosurgery Head Office: 02 9331 2993 |
| Email | reception@cnsneurosurgery.com.au |
WHERE WOULD YOU LIKE TO BE SEEN?