Amazing technologies for cervical and lumbar spine reconstruction
We have a wonderful team for spinal reconstructive surgeries at the Epworth Hospital in Melbourne, and we're using some amazing minimally invasive technologies and techniques for such procedures in symptomatic cervical and lumbar spine patients.
After careful patient selection (consistent symptoms, clinical signs and imaging findings), I favour anterior procedures over posterior procedures for such reconstruction, whenever feasible. This is owing to:
the less invasive nature of the anterior procedures, which utilise natural tissue planes that can be gently separated — instead of dissecting through (and thereby scarring) muscles and ligaments;
the fact that anterior approaches are better for reaching and addressing anterior spinal structural problems.
The anterior procedures include anterior cervical discectomy and fusion (ACDF)/mobile disc replacement and anterior lumbar interbody fusion (ALIF).
[Sometimes, posterior instrumentation is required, and this month we'll be introducing the Epworth's spinal robot to our posterior surgeries, which in addition to our intra-operative monitoring, intra-operative imaging, and Cell Saver technologies should make such operations better and safer. Watch this space!]
EXAMPLES OF ANTERIOR APPROACHES (Imaging below is from my patients):
Figures 1 – 3 (immediately below) show the latest in minimal footprint cages and artificial discs I use. Their motion preservation is typically excellent, even in multiple level surgeries such as shown in Figure 3, below.
Similar goals can be achieved in the lumbar spine, minimally invasively, as shown in Figures 4 – 6, below. In Figure 4 (immediately below), this elegant LDR/Life Tech. ROI-A prosthesis (no screws, no plates, and a large internal fusion compartment) that I successfully implanted in a patient with severe degenerative pathology at L4/5 and L5/S1 was the first time it had been used in Melbourne. Our gifted vascular surgeons provide access to the spine through small lower abdominal incisions.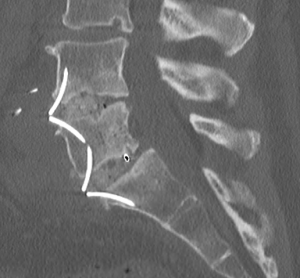 For further information, please take a moment to view our brief spine YouTube video by clicking on the spine video image towards the top of our Home Page.
< Back to blog