Cervical spinal salvage with mobile artificial discs, after fusion elsewhere and recent trauma
This patient who had an anterior cervical spinal fusion (ACDF) at C4/5 done interstate a few years ago and did well from that operation, was referred to me following recent cervical trauma (MVA) that led to significant adjacent level disc herniations (yellow arrows in figure below). The massive acute disc disruption at C6/7 was compressing the cervical cord (red circle in figure below).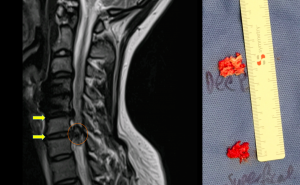 The damaged discs at C5/6 and C6/7 were surgically removed by me uneventfully and minimally invasively through a small neck incision. Superficial and deep disc material from the C6/7 herniation is shown above; it's the largest cervical disc herniation I've come across!
The damaged discs were replaced using some of the best prosthetics in artificial mobile disc technology/total disc replacement (TDR), to preserve the function and anatomy of this patient. The image below shows the post-operative cervical spine X-ray the day after our surgery while the patient was up and walking around well.
Note that the C4/5 level was successfully fused by another surgeon by using a relatively bulky construct (plate, screws, cage; red circle); the C5/6 and C6/7 levels are intentionally NOT fused – they have functionally mobile, sleek artificial discs (yellow arrows) [LDR-Device Technologies/Mobi-C].
Motion preservation is a key to long-term functionality.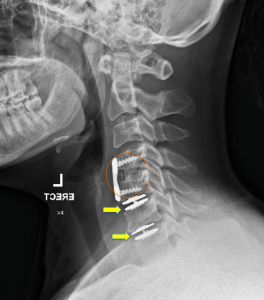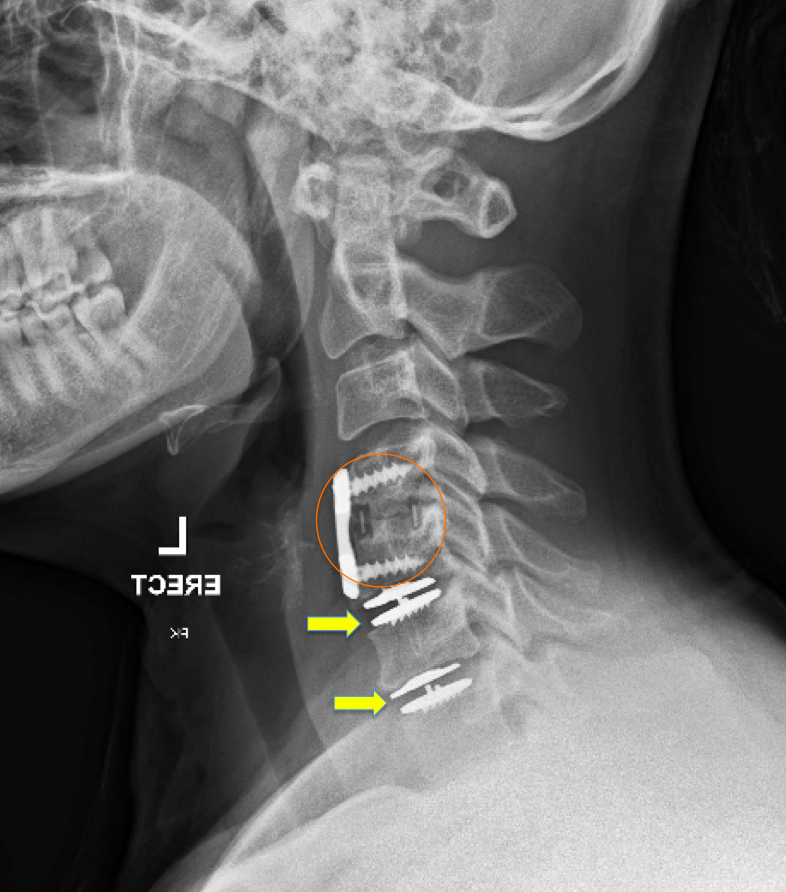 < Back to blog