Congenital narrowing of the lumbar spinal canal – Implications
When a spinal canal is relatively narrow from birth, where it will remain relatively narrow throughout life, it is referred to as congenital spinal canal narrowing. This is different to acquired (typically degenerative) narrowing which is referred to as spinal stenosis.
The MRI image below shows a mildly congenitally narrow lumbar spinal canal, with antero-posterior (front-back) thecal (spinal) sac ("AP sac") diameters are around 11-12 mm in this normal-to-large adult male; the expected (normal) diameters here are around 15-16mm.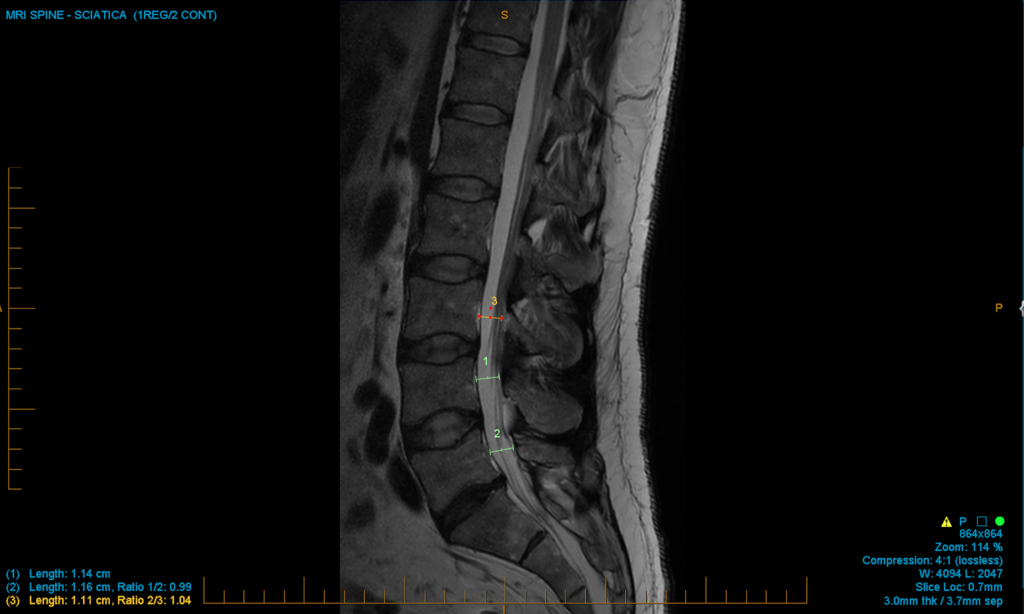 What does this imply? The congenital narrowness of the spinal canal essentially means that the surface areas and volumes involved here are all less than normal. This implies that the forces that such spines are subjected to throughout life are relatively magnified. The analogy would be like the difference in downward force placed on a sheet of ice by someone standing on the ice wearing snow shoes (where the weight is more evenly spread out by the larger surface area of contact) versus the same person wearing stilettos (where the weight is more concentrated at the much smaller points of contact).
Consequence in the spine? Congenital narrowing of the spinal canal leads to the acceleration of spinal degeneration relative to people of the same age/demographic who don't have congenitally narrowed canals. The same applies to any part of the spine should there be congenital narrowing there. Acceleration of degenerative changes ("accelerated spondylosis") can be expected to lead to structural, functional and symptomatic deterioration earlier in such people. Smokers are also subject to accelerated spondylosis. A smoker with a congenitally narrow spinal canal, well that's a bad combination from a spinal health perspective.
You can't prevent a congenitally narrow spinal canal, but its effects on the spine can be mitigated (counteracted) to some degree by sensible spinal health precautions and, as a last resort, surgical intervention.
< Back to blog