Patients' Google and RateMDs Reviews of C.N.S. Neurosurgery
Updated 21 May 2022
As of today, we have received over 120 consecutive 5-star reviews of our Practice via Google and RateMDs, two premier Web resources, and are regarded (independently by ThreeBestRated) as one of Sydney's leading neurosurgical Practices.
My staff and I are deeply grateful for these reviews of C.N.S. Neurosurgery from my brain and spine surgery patients, and from ThreeBestRated. We work diligently to deliver the highest standard of neurosurgical opinion, treatment and support for our patients and their carers. The heartfelt words of my patients in their independent reviews speak volumes compared to anything that I could say about what C.N.S. Neurosurgery stands for and strives to achieve.
To read the Google reviews, click the blue "Reviews" link or tab (like the ones circled below) that should open up when you CLICK HERE.
To read the RateMDs Reviews, CLICK HERE.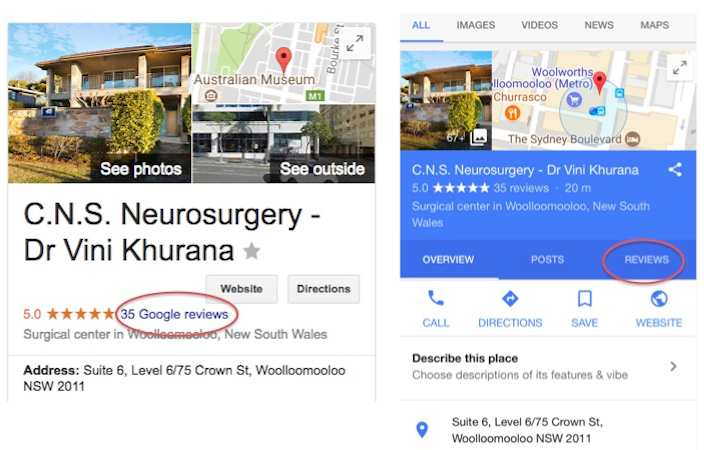 (Above snapshots 21 August 2017: PC/desktop view on left; mobile phone/tablet view on right)
< Back to blog