A minimally invasive anterior approach (ALIF) used to replace failed posterior approach
This patient was recently referred for ongoing symptoms of low back and leg pain following a procedure done by someone interstate.  The construct (posteriorly placed instrumentation comprised of screws, hooks and rods) had failed to stabilise the spine or resolve the symptoms.
This is an x-ray of that posterior construct: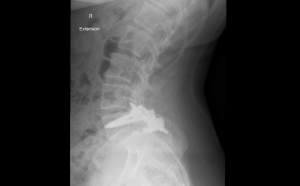 I first removed the construct using the other surgeon's posterior incisions:
During the same operation, I then REPLACED ALL OF THE ABOVE with the following simple and elegant construct (ROI-A cage, integrated BoneCrunch fusion matrix in core; courtesy Device Technologies/LDR & AusBio/PointBlank Medical) via a minimally invasive small horizontal incision under the bikini line (anterior access provided by our technically gifted vascular surgeon). This procedure is called Anterior Lumbar Interbody Fusion (ALIF); the cage and post-op CT image is shown below:
I advise such patients to wear a custom-made lumbar brace fitted by one of our expert orthotists, for 3-4 months after such surgeries, whenever they're walking around; they typically start walking the day after surgery. The lumbar brace looks like this: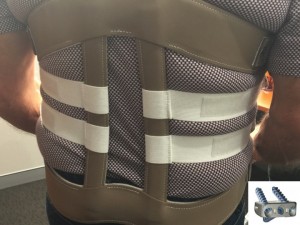 We've had great results with the anterior approaches. Minimally invasive, elegant, and effective thus far!
< Back to blog