Stalif C-Ti + CP-ESP "hybrid" reconstruction, for decompression, restoration of disc height and lordosis, treatment of pain, and preservation of functionality
The pre-operative image (below) shows reversal of cervical spinal lordosis (blue dashed line) and loss of cervical disc heights at C5/6 and C6/7 in particular (red dashed oval). There is mild retrolisthesis at C5/6, with 'shaggy' endplate degeneration there.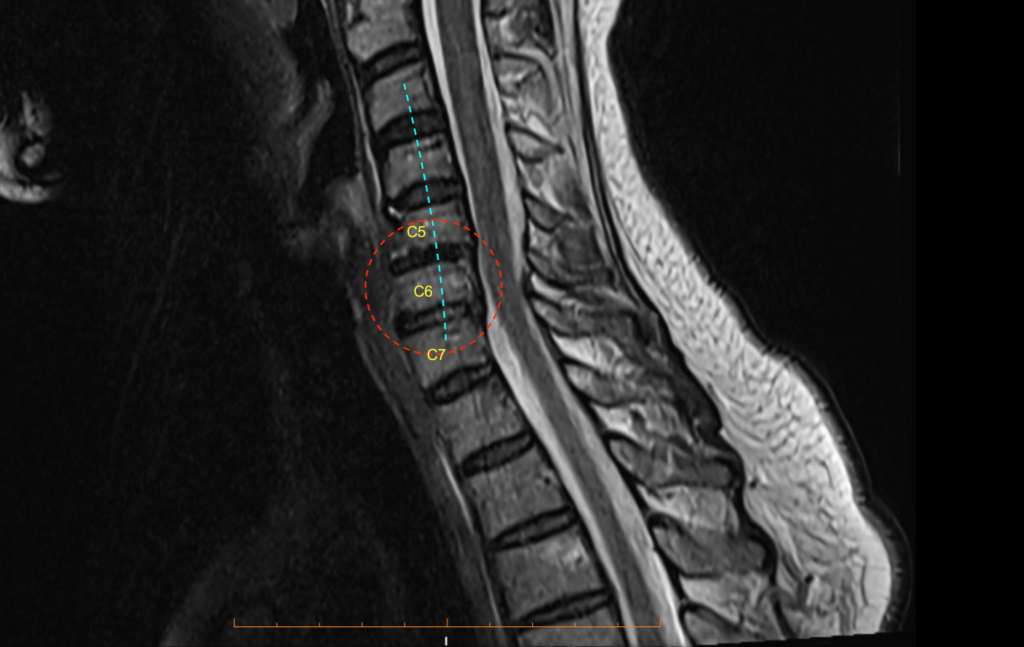 This intra-operative lateral X-ray collage (below) shows the gradual reconstruction of each disc space with a beautiful combination of Stalif C-Ti fusion cage + Allovance core at C5/6 and CP-ESP artificial disc at C6/7. Prosthetics were chosen for suitability for this patient's pathology.

This is what the prosthetic combination looks like (below), with the fusion cage on the left and the artificial disc on the right.

The post-operative X-rays (below) look very nice, with a pleasing radiological and clinical outcome. Look at the restoration of (natural) cervical lordosis (magenta dashed line) and disc space heights (green dashed oval region) here, compared with the pre-operative situation, described / shown earlier with the uppermost image.

< Back to blog